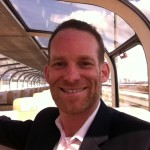 Art inspires by presenting a personal system of representation.  Attendance at the Canterbury High School of the Arts in Ottawa and the Nova Scotia College of Art and Design strengthened a lifelong commitment to originality of personal expression. My studies of Art History fostered a respect for vanguardism. Architectural drawings and drafting came naturally to me as a student and have greatly influenced my methodology. The revolutionary work of Mies van der Rohe and Le Corbusier are proof that beauty can spring from simplicity, function and materials.  The rise of industrial technology during the Italian Futurist movement a hundred years ago resonates in the rise of computers in my lifetime. I strive to demonstrate how technology has shaped the way I see the natural world.
I am a Canadian artist working and living in Vancouver, British Columbia for the last 20 years. Growing up in a military family I have lived on both coasts of Canada and the United States, as well as Central Canada. Encouraged by my family to pursue my love for the arts I attended art classes from grade school forward. My portfolio was accepted at Canterbury High School of the Arts for my sophomore year of high school. My family was transferred to Greenwood, Nova Scotia the following year. In no time at all I found myself  participating in the Greenwood Artists Circle. In 1988 I was accepted into The Nova Scotia College of Art and Design (NSCAD).  I studied printmaking, photography, graphic design, drawing and painting all at a time when computers were not yet accepted as a necessary medium for an artist.
After four years of focusing on Abstract Landscapes, I am now starting a series celebrating the optimistic nature of architecture in Vancouver since the mid 20th century.